10Gbps campus networks: How to get LAN infrastructure right
Huawei named Gartner Peer Insights Customers' Choice fourth year in a row
Sponsored Feature Major advances in smart terminal, device and intelligent system technology have prompted a deeper integration of the Internet with big data, artificial intelligence (AI), and the real time economy. And the continuing enterprise migration to cloud computing coupled with increased video conferencing and collaboration traffic have simultaneously pushed network managers into evaluating bandwidth and connectivity upgrades.
Even as fifth generation (5G) mobile networks are being rolled out worldwide, the upcoming sixth generation (6G) standard is set to pave the way for applications and services that integrate sensing and AI capabilities with enhanced communication. That trend, combined with the inexorable demand for faster Wi-Fi and Internet of Things (IoT) connectivity, is likely to make 10Gbps campus networks a strategic priority for many organizations.
"Traditional office services have extended beyond email and the internet to video conferencing," said Mr. Leon Wang, President of Huawei Data Communication Product Line. "The overall quantity of smart terminals is also multiplying and increasing access capacity requirements. At the same time, the scale and complexity of enterprise networks have grown significantly. Multiple networks coexist, making evolution and expansion difficult. And network construction and management costs remain high."
In its Intelligent World Report 2030 report, Huawei predicts that by the end of this decade, there will be more than 200 billion global Internet connections, and 10 gigabit connectivity will be available to every enterprise, household, and individual. By then, as general computing power hit 3.3 zettaflops and AI computing power reach 105 zettaflops, the company estimates that more than 1 yottabyte of data will be generated around the world annually.
But the increased network complexity that inevitably comes in parallel with that development puts pressure on telcos to find a simpler and more efficient approach to infrastructure operations and maintenance (O&M) which can help them reduce its total cost of ownership (TCO). Many would also like to improve quality of service using multi-level traffic scheduling, and enable ultra high-speed access to room and access points (APs) for smart terminals.
Mr Wang believes that poor network experience has severely hindered enterprise office efficiency in comes case and subsequent slowed down business development: "As long as the network continues to get more complicated and with the number of configurations growing by 10 times, O&M personnel cannot respond to issues efficiently with applications such as video conferencing."
With these trends in mind, Huawei has striven to build a 10Gbps campus network solution that addresses those critical deployment, O&M and user experience issues.
Gartner seal of approval
The company's efforts in this regard have been well received by its customers. Huawei was recently named Gartner Peer Insights™ Customers' Choice for Enterprise Wired and Wireless LAN Infrastructure for the fourth year in a row. The company received a rating of 4.9/5.0 stars based on 197 customer reviews on Gartner Peer Insights, a free peer review and ratings platform designed for enterprise software and services decision makers. Specifically, Huawei received Customers' Choice distinctions in three segments: Midsize Enterprise; Asia/Pacific; and Europe, the Middle East and Africa.
Reviews are organized by products in markets that are defined by Gartner Research in Magic Quadrant and Market Guide documents. Gartner's Voice of the Customer (VoC) document then applies a methodology to aggregate Gartner Peer Insights' reviews in a specific market to provide an overall perspective for IT decision makers. Vendors in the document are categorized into four quadrants based on User Interest and Adoption, and Overall Experience.
Being placed in the "Upper-Right Quadrant: Customers' Choice" means that Huawei has met or exceeded both Gartner's market average Overall Experience and User Interest and Adoption scores, says the company. It also received strong ratings for Overall Experience, product capabilities, and service and support. Additionally strong User Interest and Adoption scores based on review volume and market coverage (i.e. large sample sizes and diverse coverage), and users' willingness to recommend based on their experience with the vendor, were also awarded by the analyst points out Huawei.
The 2023 Gartner Peer Insights™ Customers' Choice accolade covers the key 10Gbps CloudCampus products that make up Huawei's Enterprise Wired and Wireless LAN Infrastructure portfolio. The CloudEngine S series campus switches, AirEngine Wi-Fi APs, and iMaster NCE network management platform have been deployed across sectors such as public service, education, healthcare, manufacturing, finance, and energy in more than 170 countries and regions, according to Huawei.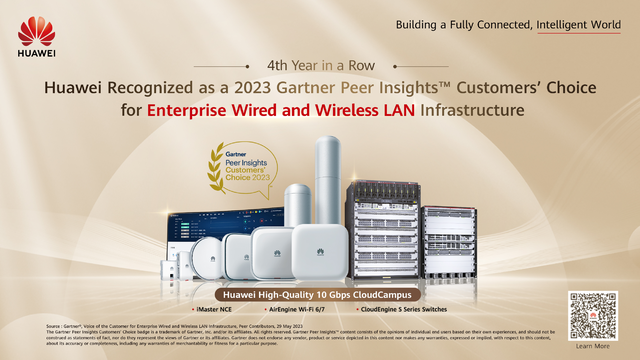 A simplified network architecture is one of the key attributes underpinning these deployments, says Mr Wang: "The main focus is to reduce repeated construction of different networks," he explained. "For example, in the manufacturing industry, there are traditionally different networks, like for the office, production, IoT, security etc. To improve on hitherto deficient isolation technology in network devices, the Huawei High-Quality 10Gbps CloudCampus solution's architecture supports different technologies – like an IoT slot in the AP, virtual extensible LAN (VXLAN), network slicing, and industry routers – that contribute to lowering TCO for enterprises."
Huawei's CloudCampus solution enables wired and wireless convergence from access to core, supporting the management of up to 10,240 APs from a single switch, and simplifying O&M with unified user authentication, says Huawei. A two-layer network architecture consisting of a central switch and remote units (RUs) also minimizes the number of managed nodes required to allow for more flexible network expansion.
Speaking from customer experience
Testing suggests Huawei's AirEngine Wi-Fi APs can deliver 200Mbps bandwidth for VIP users at 15 HD video conferences in a hybrid office scenario. Up to 50 video channels on a single AP can be accommodated without frame freezing, even during peak-hour conference sessions, says the company. Meanwhile intelligent multimedia scheduling automatically identifies different types of applications before dynamically adjusting available resources to give audio and video traffic preference without affecting other services.
The AirEngine's smart antennae have also been designed to support seamless coverage and roaming, with an AI roaming algorithm steering terminals to the AP with the best signal quality to help avoid dropped connections.
A customer in the healthcare industry who reviewed the Huawei AirEngine Wi-Fi 6 on the Gartner Peer Insights platform commented on the options offered by the product's scenario-specific customized antennas: "If it is less than 5m for the indoor scenario, Huawei offers built-in dual-band co-planar smart antennas to improve the coverage radius by 20 percent," said the customer.
"If it is 5-30m for the indoor scenario, Huawei offers the integrated mounting kit to facilitate antenna assembling before the AP installation and antenna installation at heights. If it is the outdoor scenario, Huawei has exclusive 8T8R antennas with 2.4GHz to improve the receiver sensitivity by 2dB to 3dB."
Elsewhere the CloudEngine S-Series Campus Switches features programmable chipsets and cell switching technology designed to improve network reliability by delivering non-blocking switching and zero packet loss at sites typically characterized by large numbers of concurrent device connections and heavy data traffic loads. With software-defined networking (SDN) and VXLAN technologies, enterprises can then implement plug-and-play across their infrastructure to help them orchestrate faster, simpler network deployments, adjustments and service changes.
"Huawei's simplified network architecture brings great convenience to wired office terminals," remarked another public sector customer that reviewed Huawei's campus switches. "The switch is directly connected to the desktop, which solves the problem of insufficient resources in the weak-current equipment room." The organization in question said it had purchased the switches specifically to help it improve compliance and risk management, create operational efficiencies and drive innovation.
Proactive, predictive O&M
Huawei's ultimate aim is to provide full-lifecycle automation for campus network infrastructure and one of the components intended to help it do this is the iMaster NCE-Campus intelligent network analysis platform. This collects network data in real-time through telemetry, learns network behavior, and identifies fault patterns based on big data analytics and machine learning (ML) algorithms to simplify and accelerate service provisioning and O&M. Huawei estimates that making O&M predictive and proactive has enabled enterprises to identify 85 percent of faults before they occur.
These capabilities – coupled with plug-and-play device and network provisioning, unified management, unified monitoring, and end-to-end service assurance – can help enterprises cut both OPEX and O&M costs.
"NCE-CampusInsight can display the entire network status, view the network latency in real time, and automatically detect and resolve some problems, greatly reducing the workload of O&M personnel," reported a customer from the manufacturing industry. "In addition, NCE-CampusInsight can view the quality of applications on the network and ensure [smooth access to] key applications."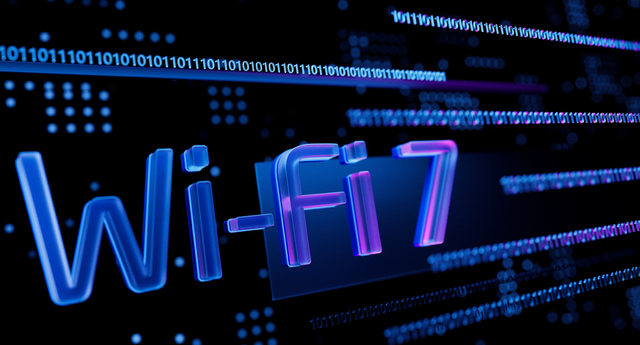 Further technology enhancements to Huawei's High-Quality 10Gbps CloudCampus solution are planned for the future: "Wi-Fi 7 will bring more capacity supporting 10Gbps wireless access, which is a key pillar in 10Gbps CloudCampus," said Mr. Wang: "An intelligent AI/ML-driven platform also enables O&M personnel to proactively locate faults and provide assurance of network experience and health status. And as AI/ML technologies mature, O&M platforms will be equipped to support self-healing, automate energy saving as well as bolster green and low-carbon initiatives."
Click here or visit Huawei Connect 2023 which will run from September 20 to 22 in Shanghai for more information on Huawei's High-Quality 10Gbps CloudCampus solution.
Sponsored by Huawei.